Ultrasonic Tooth Cleaner & Plaque Remover
$29.90 USD
GET A DENTIST-APPROVED SMILE FROM THE COMFORT OF YOUR HOME!
The 2nd Gen Ultrasonic Tooth Cleaner & Plaque Remover is designed to quickly eliminate plaque build-up,  smog residue, or even dental calculus! it is known to offer you a painless experience that you can adjust the speed on your own. It can also help to remove stains from coffee and cigarettes.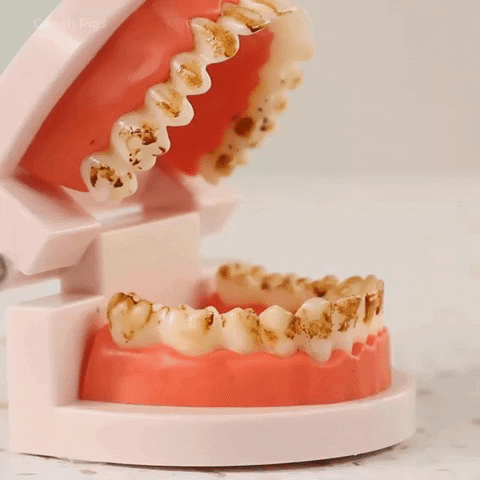 WHY DO I NEED IT? 
Plaque build-up can be devastating on teeth and gums. Not only can it be expensive, but it can also lead to bad breath, gum disease receding gums, dental decay, and even tooth loss! Say goodbye to tartar and avoid ruining your smile with the Ultrasonic Tooth Cleaner 2.0.
HOW IT WORKS?
The 2nd Generation Ultrasonic Tooth cleaner functions by using over 31.000 calculated vibrations per minute to gently and deeply cleanse your teeth removing any unwanted darkened spots and keeping your teeth and gums healthy and safe.
FEATURES : 
Dental Care With Healthier Gums: Ultrasonic Tooth Cleaner can effectively separate dental plaque, dental calculus, and stains, removes hard tartar easily from the teeth preventing gum disease.
New Vibration Technology: Ultrasonic Technology,12000 times per minute high-intensity frequency, effectively smash the stubborn calculus, reduce the damages to the enamel and gum, which may be caused by manual dental tools.
USB Rechargeable: Safe and fast charging way by USB. Charging once can be used about 200 times, travel without worry about power loss More flexible And Safer For Use: 5 Grades of adjustable frequency to remove stubborn calculus, tartar, and teeth stain. Automatic outage after fully charged, auto-protective, and energy saving 

Using Only The Safest Materials: Food-grade silicone/PC/ABS/304 stainless steel head, IPX6 level waterproof security system and rechargeable, ensure security and convenience
Portable Design: Ultrasonic Tooth Cleaner is convenient to have dental care at home, remove the attachment on teeth in time. The low-cost solution in comparison to the dentist and ideal to keep it handy in the bathroom or to take with you when you travel.
SPECIFICATIONS :
Material: Plastic + Metal

Color: Pink/ Green
Size: 7.5*1.2 in
PACKAGE INCLUDED :
1 x Sonic Dental Scaler
1 x USB Charging Cable