Ultra Compact Stainless Steel BBQ Grill
$39.99 USD$79.98 USDSave 50%
THE MOST COMPACT AND LIGHTWEIGHT BBQ GRILL YOU'LL EVER NEED!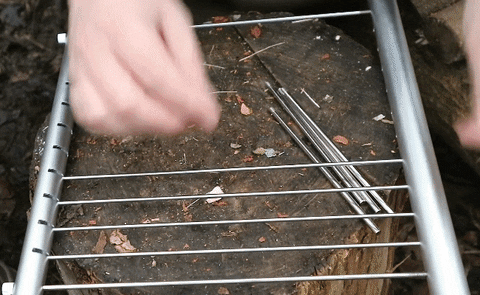 Simple and elegant, this BBQ grill provides maximum experience for minimalists—after all, less is more! Form and function are harmonized in our high-quality, German-designed portable grills. We use only top quality stainless steel for durability. It is completely dishwasher-safe and is suitable for backpackers, boaters, and other outdoor minimalists.
FEATURES:
Lightweight and Portable - The camping barbecue grill weighs only 12 oz and when packed up its dimensions are an incredibly small (31.5 x 2.5 x 2.5 cm). All grill parts are stored inside the tube and easily slide into your backpack.
Sturdy and Easy to Assemble - As long as the first and last rods on the grill are screwed in tight, the middle rods will be secure and won't budge. Very sturdy.

High Quality Material- This collapsible grill is constructed from durable stainless steel and comes with a lanyard for easy hanging when in storage.

Easy To Clean - Convenient dust-free slag collector. This barbecue grill is equipped with a convenient, debris-free ash residue collector, which can keep items neat and tidy when grilling, thereby avoiding messy cleaning up.

Perfect For Outdoor- The grill's neat and compact design leaves plenty of room in your pack for other essential items. No need to carry a heavy portable grill and propane tank on your next backpacking or camping trip. Assemble your grill in about three minutes and then gather some tinder and small branches to build your fire under it. Even when you are roughing it, you can still eat well!
PRODUCT SPECIFICATIONS
Dimensions-packed: 11.4" x 0.9" (29 cm x 2.2 cm)
Dimensions-bbq area: 9.1" x 10.2" (23 cm x 26 cm)
Weight: 19.8 oz. (560 g)
ASSEMBLY INSTRUCTIONS:
Unscrew the stainless steel tube and remove all the grill elements:

1 thick tube with a stopper
1 thin tube with a cleaning groove
2 outer grill rods with hooks and threads
10 grill rods
4 grill feet

Place both tubes with the threaded holes for the feet facing upwards. The holes of the thick tube and the grooves of the thin tube must be opposite each other.
The outer grill rods with a thread are pushed through the thin tube and fixed to the thick tube with an initial single turn.
Screw the stopper back on to the thick tube (to avoid it being lost).
Insert the 10 grill rods.
Screw the outer grill rods with the hooks fully into the thick tube.
Screw the 4 grill feet tight.
Turn the grill over and you're ready to use it.