The Portable Spray Perfume
$29.99 USD$60.00 USDSave 50%
Let's spread fragrance like flowers wherever you go!
 Easy to use
1. All you have to do is remove the cap on your fragrance bottle.
2. Look for the nozzle hole at the bottom. This hole only allows the liquid in but not out, so you're Pocket Spray will never leak.
3. Begin pushing it down. The nozzle will fit straight into the bottom without much effort. Pump it up & down on top of the fragrance, it will transfer into The Portable Spray Perfume bottle. Now you're ready to smell amazing!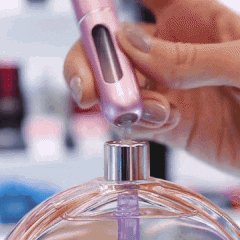 Bring your favorite perfume or cologne anywhere without taking up any space!



✔ Reduces travel bulk

✔ Smell good no matter where you travel

✔ Attaches to practically every fragrance bottle

✔ Hassle-free airport security

✔ 5ml bottles are considered ok for carry-on baggage
Warm Tip
Please don't fill this bottle fully, because there is a air-hole on the sprayer, if too fully, it can be leaked from the air-hole.
Specifications:
Material: Acrylic inner container and Aluminum shell
Color: Black, Blue, Silver, Pink, Violet
Capacity: 5ml / 70 Sprays