New Pro Crepe Maker
$56.99 USD$113.99 USDSave 50%
NEW Pro Crepe Maker!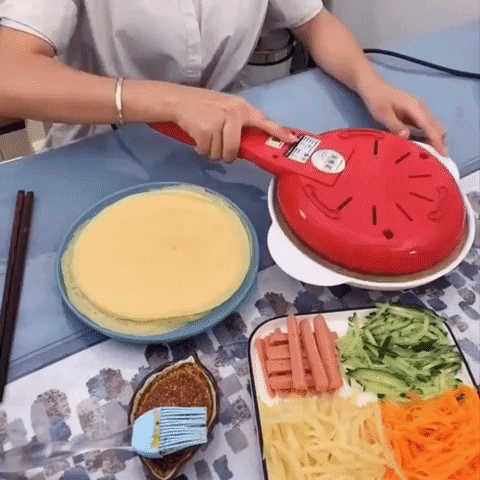 Quickly and easily make crepes, soft tortilla, tacos, blintzes, eggs roll, chapati and many more kinds of breakfast favorites in 10 seconds even with no cooking experience.
Multifunctional
The multi-functional base can be used as a griddle too so you can breakfast all day. Also, it can easily make crepes, blintz, pancakes, tortillas and a lot more.
Non-Stick Pan
We know our money is well spent when the product lasts for longer without any damages. Durability is the main criteria behind your purchases and cleaning is a snapon this hot plate offered by our electric crepe pancake maker.
It's easy to clean, simply wipe the cooking plate over with a damp cloth and your crepe machine is clean.
Easily Used and Highly Convenient
This electric crepe maker griddle can be placed in any direction on the 360 degree base.
Temperature Controller
Having different temperature settings, you'll have precise control for perfect results. Now make cooking absolutely easy and even if, you're not a great chef, you could always have a classic round electric single crepe maker to get things done for you.
PRODUCT INFORMATIONS: 
Material: Carbon steel + non-stick coating
Heat resistance: 446°F (230°C)
Certification: FDA
Weight: 2lbs (890g)
Feature: Eco-Friendly
Diameter: 8 Inch (20cm)
PACKAGE INCLUDES:
1 x Electric Crepe Maker
1 x

Food Whisk

1 x Batter Pan/ 1 x Heat-Resistant Spatula
Based on the country of the recipient, your order will be sent with a plug accordingly. Please refer to the picture below and contact us if you wish to be sent another plug of your choice.