Non-stick Silicone Baking Mat
$19.99 USD

Using the surface of the oven is old age technology as it doesn't provide perfect uniform heating to your baked items. Therefore, you must use the latest designed Silicone Baking Mat that has 500 pyramids made of silicon allows regular heating of your items!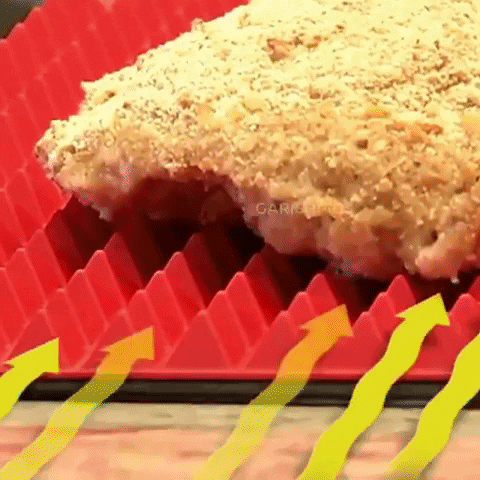 Non-stick Silicone Baking Mat is a cooking mat insert that allows you to cook breaded and nonbreaded foods in your oven. It's like grilling in your oven! Fat and grease drip away, leaving delicious, flavorful food for your family. This innovative raised pyramid design is not only for smart and healthy cooking, but it can also be used as a trivet, drying rack, and upside down for evenly cooked bread, cookies, and pastries.
And once you have cooked with this mat, you will want everything in your kitchen to be as durable and easy to clean. Offers Safe Long Lasting Use in Oven, Microwave, Dishwasher, and Freezer. A simply must-have for any kitchen.
PERFECT FOR HEALTHY COOKING: Non-stick Silicone Baking Mats with specially designed raised cone-shaped allowing air to circulate evenly from top to bottom, then draining Grease, Oil, and Fat Away. Non-stick and Enjoy a lifetime of satisfaction.
SAFE MATERIAL: Eco Friendly 100% Food Grade Silicone standard and BPA free. It's odorless, non-toxic, non-corrosive.
EASY STORAGE: the size is 16" x 11.5", it is super flexible that can be rolled up, so you can save the space and store it in drawers or cabinets.
HAND-WASH: Letting the baking mat soak in warm soapy water for only a couple minutes, then spray it with your kitchen faucet. Or use the kitchen brush and dishwasher safe.
HEAT RESISTANCE:

Non-stick Silicone Baking Mat

 can help to heat distribution for perfect cooking. Temperature Ranges from -40℉ to 446℉ (-40℃ to 230℃) and Oven, Microwave or Freezer safe.
SPECIFICATIONS :
Color: Red
Size: 15.6x10.8 in
Thickness: 0.39 in
Use for: Food roasting
Material: Food-grade silicone
Heat-resistant up to

446℉