(FREE SHIPPING) Japanese Multi-purpose Cooker & Steamer
$47.99 USD$109.90 USDSave 56%
ENTER CODE: 

COOKER10

FOR 10% OFF AT CHECKOUT! LIMITED TIME ONLY ??
Make cooking easier and more convenient wherever you are!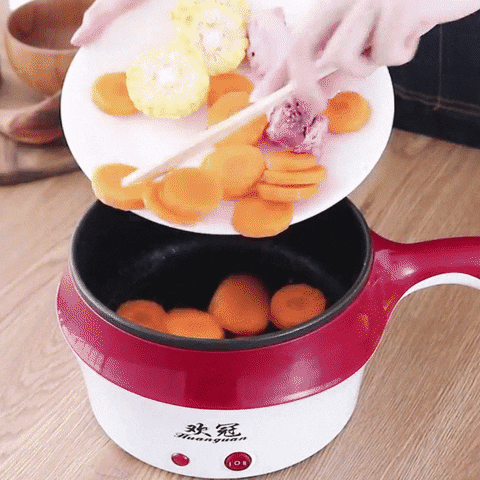 Having late night cravings but doesn't have enough access to kitchen in your dorm or room? Or lacking space in your apartment or in the kitchen? Worry no more! This Japanese Multi-purpose Cooker & Steamer is your space-saving solution!
This cooker is handy and you can bring it with you almost anywhere. It is also powered by Electricity, hence, no need to have a stove.
FEATURES:
✅MULTI-FUNCTIONAL: This pot is perfect for cook porridge, soup, boiled eggs, noodles, and more in one single cooker! Best for Couples, small families, students, dorms, overnights, midnight cravings, quick breakfast, lunch or dinner, etc. This appliance is best to have in any home as a main cooker or an alternative in emergency situations or for quick cooking.
✅COMPACT, TIME SAVING & SPACE SAVING: this cooker comes with a FREE steamer that allows you to cook multiple dishes at the same time! Suitable for 1-3 people, individuals or groups , students, busy office workers and more. This can also be a great gift for your loved ones or friends moving into a new apartment/condo.

✅RAPID COOK: The 2-level power adjustments helps you easily switch between high heat and low heat for making perfect meals. Easily cook anything from orridge, soup, boiled eggs, noodles to tea, instant coffee, hot cocoa and more! 
✅ERGONOMIC DESIGN & HIGH QUALITY MATERIALS:  Unlike flimsy aluminum pots, our  cooker & steamer are made of surgical-grade 304 stainless steel, which is more durable and practical! Save your precious time and effort, since our stainless steel liner is super-easy to clean and can endure any abuse without skipping a beat!
✅ NO MORE KITCHEN MESS: Our cooker's liner is a combination of 5 different food-safe nonstick layers to ensure quality and safety, which makes it suitable for all types of cooking methods. No longer need to change pans or pots when cooking, and you will have less and easier to clean.
HURRY UP AND GRAB YOURS BEFORE OUR SPECIAL SALE ENDS!
SPECIFICATIONS:
Material: Food-grade ABS, Non-Stick coating
Rated voltage: 220V/50Hz
Rated power: 250W~400W
Pot capacity: 1.2L
Package includes:
1 x Japanese Multi-purpose Cooker (random color)
1 x Stainless-steel steamer