LED Faucet Changes Colors With Temperature
$34.88 USD$75.00 USDSave 53%
Ever need to know the temperature of the water coming from your faucet without wanting to actually touch the water?
Or maybe you just want to turn your faucet into an awesome dance rave party area. Either way, this LED faucet nozzle should do the trick. It connects right to the end of your faucet and replaces your existing aerator, and let you know whether the water coming out of it is hot or cold.
The LED faucet nozzle will fit most standard sized faucets, and is completely powered by the movement of the water inside of the device. This means no batteries or external power source is necessary. It's made from corrosion-resistant ABS chrome material, and is durable, and uses a leak-resistant rubber gasket screen.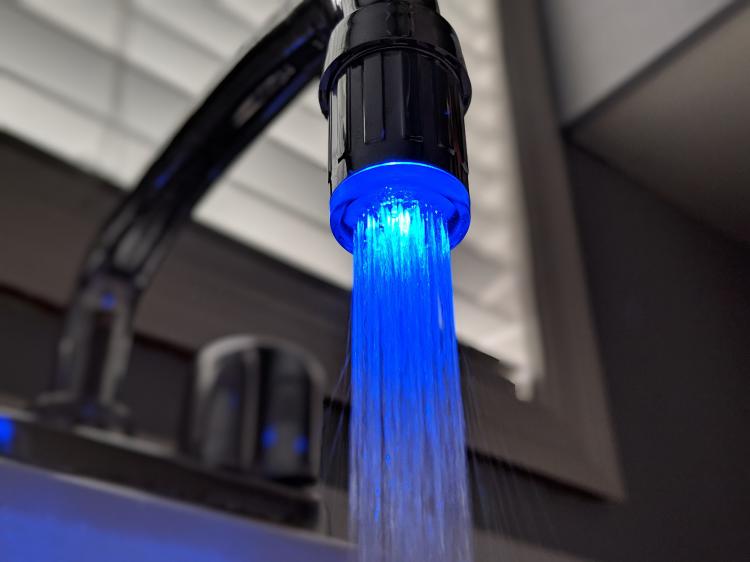 The color's change remind you the water's temperature.
Water glows blue when water is cold (temperature below 31°C )
Water glows green when water is warm (temperature is 32°C 43°C)
Water glows red when water is hot (temperature above 44-50°C)
Water flash red when temperature above 50°C.

When the water temperature over 51°C, red flash to warn you avoid being scalded.
Feature:
100% brand new and high quality.

ABS chroming material, excellent corrosion resistance, durable.

Transforming the stream of water into a beautiful blue waterfall of light.

The light is activated by water pressure and turns off automatically with the water.

With blue led light glow when water flow,and do not affected by water temperature.

Ideal for bathroom or kitchen to make it fantastic.
Package include:
1pc x Faucet

1pc x Tap Adapter