Kleenovate™ Turbo Smart Scrubber
$89.95 USD$119.95 USDSave 25%
THE BEST CLEANING SOLUTION FOR YOU!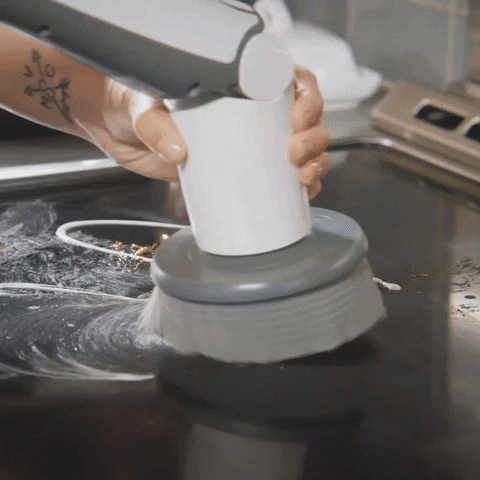 Revolutionize The Way You Clean!
Clean Anywhere With Ease
This device can be used to clean your sink, stove, oven, bathtub, shower, toilet, tight corners, glass door, all types of floors, grill, and even your tires! The possibilities are endless! 
EXTRODINARY PERFORMANCE - Unmatched Quality & Functionality
Equipped with powerful torque and fast spin speed, Smart Scrubber™ is designed to do all the work for you! Its superior rechargeable battery allows for an extended cleaning session of up to 150 mins with a 4-hour fast-charging feature! With its adjustable head and extendable arm, you can reach tight corners and hard-to-reach areas with ease!
How does the Smart Scrubber™ compare?

Note*:
4 Replacement Brush Heads are provided for different purposes. You can use Smart Scrubber™ to clean any surfaces in the house and even outside of the house.
Round Brush
– A true all-purpose brush head for any area in the house, no matter how flat or curvy the surfaces are! This Round Brush is perfect for cleaning the sink, bathtub, carpets, toilet bowl, and more.
Corner Brush
– Combining precision and flexibility, the pointed Corner Brush is designed for hard-to-reach areas, narrow space, tight corners, edges. It is perfect for cleaning the grout, corners of the standing shower, edges of the sink, faucet, and more.
Wide Flat Brush
 – This extra Wide Flat Brush is the heavy-duty brush head, which is ideal for large flat surfaces, such as tile floors, ground, window, oven, glass shower doors, and more.
Small Flat Brush
– The Small Flat Brush adds more precision to the Wide Flat Brush, allowing you to focus on smaller spaces or areas that require less surface contact. It is perfect for cleaning the stove, microwave, or smaller flat surfaces.
Specifications:
Extendable Arm to Reach Hard-to-Reach Areas (31'' to 43'')
Adjustable Head from 0-80°
Powerful Torque of 33.19ft/lb or 45Nm that will not stop when pressure is applied
Fast Spin Speed of 300 RPM
Cordless & Rechargeable with 4-hour Fast Charging
4 Replacement Brush Heads
Lasts up to 150 mins
Real-time Power Indicator
Waterproof (Head & Front Part)
Packages:
1 x Smart Scrubber™ Scrubber Device
1 x Smart Scrubber™ Round Brush
1 x Smart Scrubber™ Corner Brush
1 x Smart Scrubber™ Wide Flat Brush
1 x Smart Scrubber™ Small Flat Brush
1 x Charging Cord
1 x Power Adapter 
1 x Holder