Hollow Chisel Mortise Drill Tool
$74.68 USD$149.99 USDSave 50%
Drill perfect square holes for your woodworking projects! ?️
Quickest, easiest way to get the most precise square hole on your wood. Save time & energy! Makes consistently clean cuts with exceptional efficiency. 
⚒

This tool is 

a great partner for woodworking

 ??
?‍♂ Precise: Sharp edges and points make consistently clean cuts with exceptional efficiency. Prevent frustration and save your time as you complete your tasks. 
?‍♂ Quick and Easy: Use this tool set on compatible drills and get the perfect result within minutes.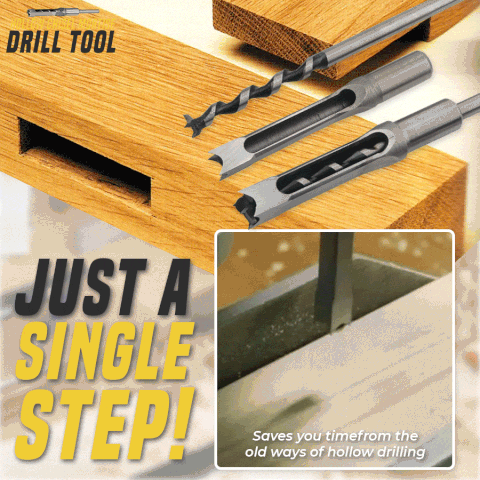 ?‍♂ Top Quality: Made from high speed steel, after professional heat treatment, HRC48~50, ensuring its high hardness and high concentricity. 
?‍♂ Universal Usage: Compatible with almost every standard square hole drill drilling (mortise and tenon machine) to use. 
?‍♂ Widely Application: Great for drilling square holes in wood with a mortising machine or a mortising attachment. Fits all mortising machines and drill press attachments. Square hole drill is mainly used for woodworking aspects.
?‍♂ Size: Packaged with 4 different sizes for your choose, 1/4"(6.4mm), 5/16"(8mm), 3/8"(9.5mm), 1/2"(12.7mm). These long square drill bits set can meet most of your needs, and each drills packed in a single plastic case, easy to maintain.
Note:
This product is suitable for bench drilling machines and mortising machines. It's not applicable with a cordless drill. If you have a standard drill press, you'll need a mortising attachment to use this product.
Description:
Name: Hollow Chisel Mortise Drill Tool
Material: High Speed Steel
Product size: 1/4 in (6.4 mm), 5/16 in (8 mm), 3/8 in (9.5 mm), 1/2 in (12.7 mm), 5/8 in (16mm), 3/4in (19mm)
Weight:
          1/4 inch (6.4mm) - 120 grams
          5/16 inch (8 mm) - 140 grams
          3/8 inch (9.5 mm) - 170 grams
          1/2 inch (12.7 mm) - 210 grams
          5/8 inch (16mm) - 240 grams
          3/4 inch (19mm) - 330 grams
Package Included:
1 x Square hole drill bit
Or
6 x Square hole drill bits