GP™ Painter's Tape Applicator
$65.99 USD$130.90 USDSave 50%
Taping at heights is too dangerous! Tearing tape with your teeth is unsanitary!
GP™ Painter's Tape Applicator is your new tool for faster and easier preparation.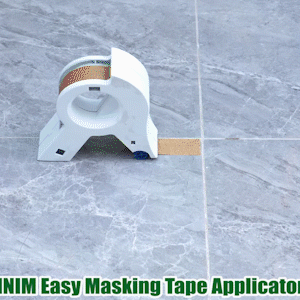 When painting, it is difficult to deal with the corners of the border, so you will need to apply a masking tape, which you can peel off when you have finished painting. GP Easy Masking Tape Applicator helps you to apply the masking tape very well, even in high places, with one hand, and with its own sharp blades there is no need to look for scissors anymore.
Main Features
Fast and Precise Cutting
The tape dispenser's sharp cutting edge provides straight, precise cuts. Featured with a metal serrated cutting edge, back finger brake, it allows rollers to hold the tape firmly on the surface and a flat side standing, so you can apply tape quickly, easily, and accurately.
Easy to Perate
With its rounded handle for easy grip and ergonomic design, keep your tape clean and ready to use with this precision applicator. Easy to operate, you'll be using it in less than a minute.
Firm Adhesion
The roller wheel at opening ensures GP's tape releases evenly and accurately. Push in the three clips to release the backing plate for a refill, Then plastic rollers hold the tape in place with a tight seal, and a tape dispenser protects the tape while making it easier to apply the tape accurately.
Easy to Install
① Place the masking tape into the GP®
② Cover the other half and slide it to the right to close it.
③ Open it by sliding it to the left and lifting it up.
④ Easy to place and replace masking tape.
Practical Melamine Tape Applicator
The applicator GP® protects doors, cabinets, window glass, etc. from the paint applied and allows for quick and precise application of plain tape to objects, which is very practical and versatile. (For 1.88" to 2" x 60 yards standard tape)
How To Use
Specifications:
Product Weight: 280G Product
Size (L x W x H): 15 × 6 × 16cm / 5.9 × 2.4 × 6.3inches
Masking Tape Color: White + Blue