GP™ Cutlery Drawer Organizer - BUY 2 GET 1 FREE
$26.99 USD
Keep Your Kitchen Drawer Organized!
Are you tired of seeing your unorganized cutlery in the kitchen drawer? Or do you find it annoying when all your utensils take too much space in your drawer?
Never worry again! We got the solution just for you! Introducing the GP™ Cutlery Drawer Organizer!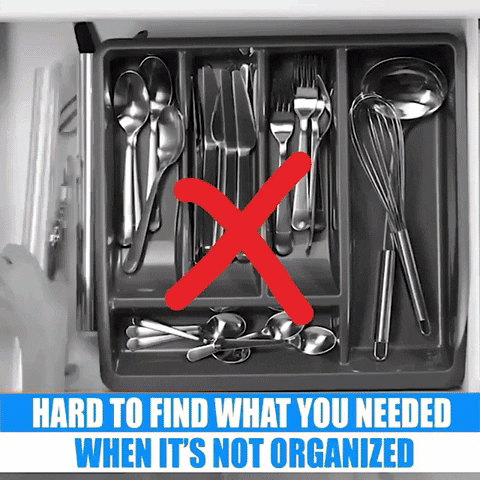 This revolutionary organizer helps organize messy cutlery drawers with a practical and smart storage solution. It lets you store your cutlery at an angle, allowing you to store a full set of cutlery in less than half the space of a conventional tray. This way, you are organizing your utensils while saving more space!  Achieving neat and orderly set-up for your utensils in a breeze!
BENEFITS
☑️ SPACE-SAVING DESIGN – Its ergonomic design allows you to stack multiple cutlery in a single organizer, thus frees up room for all your other utensils and gadgets in the drawer.
☑️ SAFE TO USE – Equipped with non-slip feet on the base to stop the organizer from sliding around in your drawer, keeping your utensils secure and in place.
☑️ FITS MOST DRAWERS – Its sleek build makes it an ideal organizer for any drawer with a 3.25 in (8.3 cm) minimum height.
☑️ CUTLERY ICONS – Each slot comes with debossed cutlery icons to make it easier for you to identify which utensil fits in each compartment.
☑️ WAY INSERTION – Its unique design allows you to insert cutlery either head or handle first – the choice is yours!
Maximize your drawer space with the Cutlery Drawer Organizer – the perfect solution for drawer storage! 
Save space and say goodbye to the utensil clutter inside your drawers now!
PRODUCT SPECIFICATIONS
Color:

Grey
Material: High-quality plastic
Item Weight: 9.6 Ounces
Size:
Spoon tray: 15. 6 x 4. 33 x 2.25 inches/ 39.8 x 11.4 x 5.8 cm
Knife tray: 15.55 x 5.63 x 2.9 inches/ 39.5 x 14.3 x  7.4 cm