GP™ 2 IN 1 Electric BBQ Grill Pan & Hot Pot (220V) - FREE SHIPPING
$79.95 USD$100.00 USDSave 20%
Save Money, Eat Healthy & Happily at home with Our GP™ 2 IN 1 Electric BBQ Grill Pan & Hot Pot.
Want to enjoy BBQ and hot pot at the same time? Now you can combine two of your favorites  into one new unique dining experience. This pan is perfect partner for all food lovers!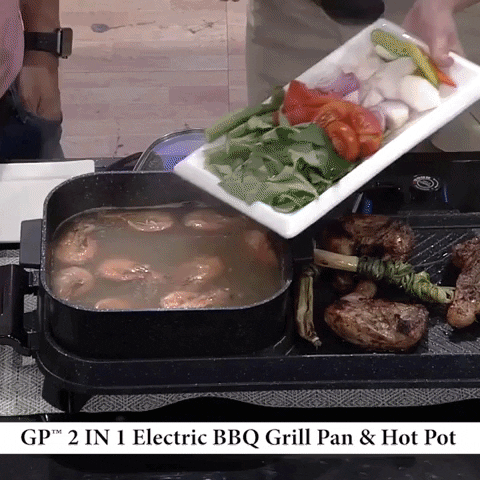 MULTIFUNCTION : The GP™ 2 IN 1 Electric BBQ Grill Pan & Hot Pot helps you have more ways to prepare dishes for families and parties! Cook your favorite BBQ and enjoy your tasty hot pot broth at the same time, at the same table.
FOOD GRADE SAFETY MATERIAL : The pan is made of super thick alloy. The surface of the pan is coated with food grade safety coating, which is non-toxic and harmless. It does not touch food and leaves the smell of burnt smoke. The hot pot has a toughened visible glass cover and an integrated anti-skid base, which is safe, stable and easy to operate.
INTELLIGENT TEMPERATURE CONTROL : BBQ tray and hot pot are equipped with independent temperature control device. The high-power heat conduction tube can conduct heat quickly for 10 seconds, and the food is heated evenly.
SUPER LARGE CAPACITY : It can meet the dining needs of 5-10 people at the same time. It is suitable for family gathering, classmate party, garden barbecue, various festivals, etc.
EASY TO CLEAN : With detachable oil dropping box, it can ensure that the extra grease on the baking tray will not pollute your table. The baking tray has a non stick coating, which saves time and effort in cleaning.
After using, pull out the power cord, and only need water and detergent to clean the pan , then dry it and store it for next use.
SPECIFICATIONS:
Material : High Quality Aluminum Alloy, Nano Non-Stick Coating
Color : Black
Voltage : 220V - 50HZ
Power : 1200W
Product Size (L x W x H) : 54cm x 23cm x 13cm
USING NOTE:
1. The buttons smoke at the first time use is normal, do not afraid or worry too much.
2. When used, enable the temperature and temperature controller and the main body correctly. After use, turn off the temperature before unplug the electricity. It should used with the electricity accessories come with it, to avoid accident happen.
3. Before washing, thermostat need to placed in a try place, let it cooling naturally to avoid electric problem. Keep the temperature controller and and plug wire away from the water.
4. Avoid wire connect with the high temperature objects, the main body should be put in a plat place to avoid collision.