Upgrade Fingerprint Lock Waterproof
$44.99 USD$75.00 USDSave 40%
This keyless lock uses your fingerprint to unlock! It's the perfect extra layer of security that you need to keep your valuables safe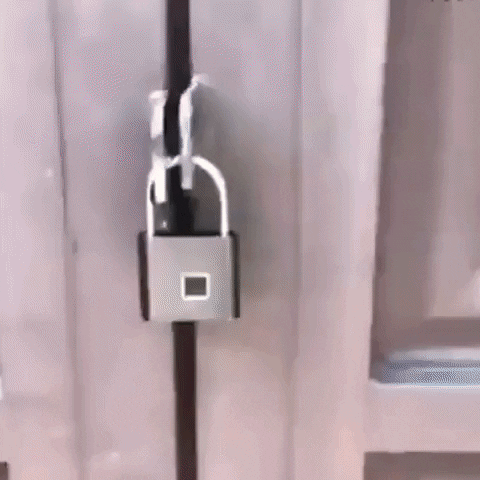 Features
SAFE & EASY TO USE: Your fingerprint is the only key to smart fingerprint lock. Do not worry that you will forget to bring keys when going outdoor, travel, gym etc. The lock beam of fingerprint door lock is 0.24in in diameter, more sturdy than other touch smart lock. Follow the manual and add fingerprint to the portable USB padlock, then you can unlock it by only gently press on fingerprint reader. This easy use of padlock box can be suitable for men, women, kids, children, girls etc.
WATERPROOF SMART PADLOCK: The best smart lock is daily IP65 waterproof, and also it is a rustproof padlock, outdoor padlock weatherproof, uncutable padlock. It has a dust plug for the USB port, and keep charging port cleaner. Keyless tiny lock with high sensitivity to fingerprints supports 360 degree angle fingerprint recognition, so the smart lock door only need less than a second to unlock.
LOWER CONSUMPTION & USB CHARGING: The high security padlock has the feature of lower power consumption and long standby time. A rechargeable 300MAH lithium battery can support 2 years standby time and can be unlock over 2500 times. There is a USB cable to get gym padlock charged. When keep in low battery, the biometric padlock will alarm per minute. When touch smart lock is charging, the red indicator will on. And when smart home lock is full charged, the light will be off.
PORTABLE & WIDE USE: It is a mini portable lock box, and its pocket size can be carried to everywhere you want. Powerful fingerprint lock is suitable for outdoor and indoor, such as house door, gym, gate, warehouse, cabinet, shed, suitcase, handbag, box, bike, bicycle, luggage, fence, garage, office and ect. The small uncuttable padlock is equipped with metal body construction, boron Carbide shackle, and anti-shim locking mechanism for strengthening security and safety. 
ANTI-THEFT: Smart lock is made of aluminum alloy metal body and stainless steel shackle for superior cut resistance, is great for anti-thief, anti-dust and anti-erosion.
Important NOTE
Before using, you need to find a USB cable to charge the fingerprint lock, make sure it has power. (USB Cable is not included)
Fingerprint Entry Steps
The first administrator certification is required when entering the second administrator. By default, the first two are administrators.
Product List
1*Fingerprint lock
1*bag
1*User manual (in paper card inside )
NOTE: NOT include USB cable!!!!