Extra Long Expandable Garden Hose
$39.99 USD
WHY DO WE NEED EXPANDABLE HOSE?
When you love gardening, or just planning to garden you automatically think of your watering system. You think what is the best way to bring water to your plants the most efficient, affordable way.

It is either through a sprinkler or hosing system. But the thing is sprinklers can only reach so much. So the wise choice is a hose.
But what type of hose?
Of course, you should go with the one that detangles itself and does not kink. You would not have to worry about fixing your hose after you use it or even roll it because it will fix itself.

How convenient right?
WHY CHOOSE OUR EXPANDABLE HOSE?
SPACE EFFICIENT GARDEN HOSE: This amazing water hose starts out very short and expands 3 times its size when it gets under water pressure, but returns in seconds to its original compact length after the water is out!
A GARDEN HOSE DESIGNED TO MAKE LIFE MUCH EASIER: This newly designed expandable garden hose will never tangle, twist, or kink. This Flexible Garden Hose is compact and easy to store away!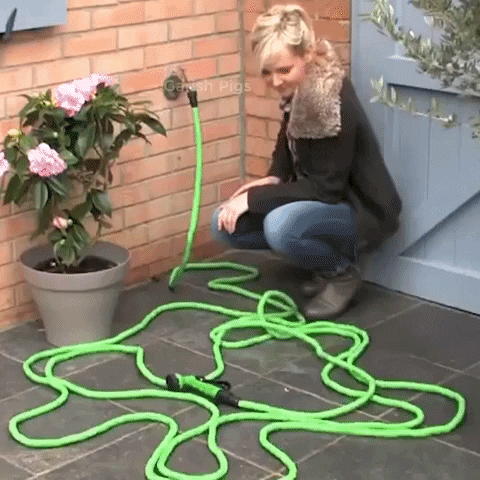 MULTIPLE SPRAY PATTERNS: The Garden Hose gets even better with our 7 patterns, high-pressure hose spray nozzle! Made with all brass connectors, excellent corrosion resistance, and durable quality.

EXPANDABLE GARDEN HOSE WITH HIGH PRESSURE-RESISTANT DURABLE LATEX: Normal operating water pressure 43.5-87PSI/3-6Bar, our new designed water hose can safely operate with water pressure up to 145PSI/10Bar!
GREAT FOR MANY WATERING & CLEANING USES: The hose is perfect for garden, workshop, lawn, car-washing shop, RV, pool, boat, garden watering, pet cleaning, etc.
SPECIFICATIONS: 
Material: 

ABS

Color: 

green
Product Includes: 1 Spray Gun + 1 connector + 1 Garden hose + 

1 English manual.
*A choice between 25, 50, 75, 100, 125, and 150 feet long hose.