EasyCane™ Collapsible Telescopic Folding Cane
$39.99 USD$80.00 USDSave 50%

MAKE YOUR LIFE
 

EASIER & MUCH MORE ENJOYABLE

 

THANKS TO THE EASYCANE!

Are you tired of walking with those aches and pains that are just plain miserable to deal with?
Are you tired of being assisted everywhere you go and you just want to walk by yourself but seems almost impossible?
Luckily our team of researchers came up with the ultimate solution. The EasyCane™ Collapsible Telescopic Folding Cane instantly relieves you of those nagging pains and offers you the support you need to walk around pain-free.
Reduces Pain - The EasyCane offers you support in any direction and all angles with maximum support and stability, ensuring that you don't slip and fall or make a wrong move. Never suffer flimsy canes and sacrifice your safety ever again!
Adjustable - Can be adjusted to any height! 5 Level adjustable and locks in at any setting. Whether you're tall or short we cater to all without any inconvenience. It can be used to walk around and can even be used to help get you out of the tub with ease! A true game-changer to the industry.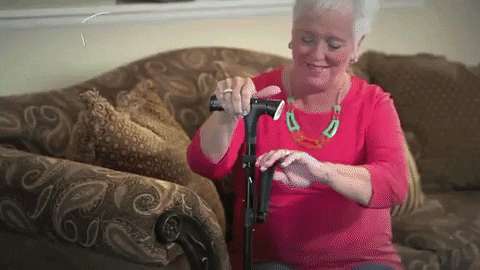 Visible At Night - Safety is our number one priority so with that in mind we created an LED light so you can walk at any time of the night safe and sound. Even makes for a handy flashlight just in case the power goes out and you're in the dark all by yourself. The ultimate two in one tool that gives you peace of mind and less worry at night.

Alarm Button

 

- Involves alarm button which can help in various accidents to call for help.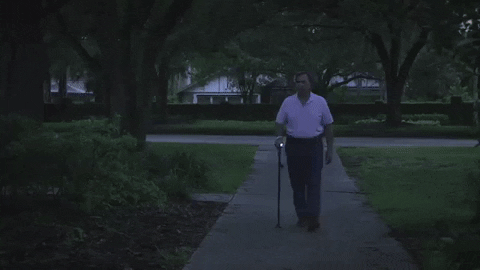 Easy for Everyday use - Ergonomically-designed grip handle together provide the user with maximum safety and comfort while exhibiting high quality and sustainability.
Foldable & Versatile - Height can be adjusted from 32 inch to 37.5 inches. Easily folds into four sections and can be conveniently stored for travel and convenience. Perfect for travelling.
Slip Resistant - Anti-marking rubber tip prevents falls and keeps you safe. The pivoting quadruple treaded base provides better traction and supports your full weight while giving you the flexibility to walk, run and turn easily. With a 250 pound weight capacity, Our EasyCane will support you throughout your daily life.
See What Our Customers Have to Say!
 Excellent
'' I purchased this for my mom for her birthday. She has a straight cane that falls over when she sets it down. She also has a silver 'quad cane' with a large base that she trips on when she tries to use it. She loves that it stands up on its own and has a tiny base. She feels much more secure with it. She tells me the hand grip is very comfortable and she also likes the wrist strap. Definitely a good purchase.'' - Richard M.
 Great product!
" I purchased this for my 90 year old father. He absolutely loves it. He has a closet full of single point hook canes from various sources. He never liked using them...........most likely due to poor performance and less than adequate balance assist. Even with use, a single point hook cane does not offer great balance. " - Elizabeth P.