4-in-1 Knife & Scissors Sharpener
$38.85 USD$55.00 USDSave 29%
KEEP YOUR KITCHEN KNIVES AND SCISSORS SHARP FOR ALL YOUR CUTTING NEEDS!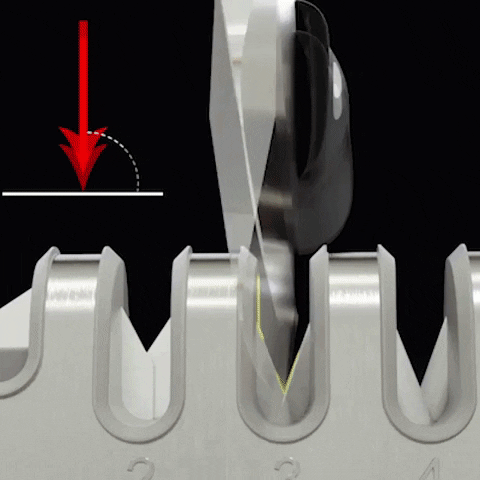 Tired of your knives giving up on you fast? Hate it when a knife you have works perfectly fine, and then the next minute it can't even cut a soft tomato properly?
These 4 in 1 kitchen knives have been designed to keep your kitchen knives and scissors sharp for all your cutting needs!
With the 4-stage Knife & Scissors Sharpener, you can sharpen blunt knives and scissors easily and professionally. Keeps your kitchen knives brilliantly sharp.
For scissors: 1 - Diamond Abrasives
For Knife:
2 - Coarse (Carbide Blades) For blunt knives
                  3 - Medium (Diamond Abrasives) For daily use
                  4 - Fine (Ceramic Rods) For knives need polishing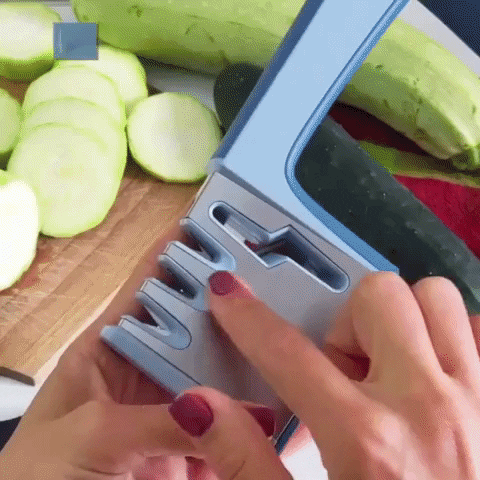 3 Knife Sharpening Step:
Preparation: For repairing damaged blades and straightening blades before sharpening.
Sharpen: Sharpens the blade and restores the cutting edge to a "V" shape.
Fine: For refining sharpened edges and polishing.
With our incredible 3-slot system, we're revolutionizing the art of knife sharpening!
Ergonomically design: Non-slip rubber base and comfortable handle bring you good experience when sharpening your knife. The bottom of the knife sharpener has non-slip rubber bases that prevent slipping during use.
Premium Quality: With our professional knife sharpener kit, you don't have to be a chef to cook like one! Crafted from solid ABS plastic, it's strong, durable and designed to last a lifetime. 
Easy to use: Small and practical, easy to use. Simply place the blade in the sharpening notch and gently pull the knife through a few times for fast, effective sharpening.
Your knives will look and work like new!
Push down the knives with a certain strength, it won't require major hand strength, pull from its base to the tip. Don't push back and forth!
Suitable for all types of Knifes and Scissors: Perfect to sharpen all kinds of blades like Chef's, Utility, Paring, Clip Point, Slicers and Cleaver knives, all kinds except serrated ones.
Specifications:
Product material: ABS+Stainless Steel
Grinding wheel material: Diamond + Tungsten Steel + Ceramic
Dimensions: 8.66*1.57*3.54in/ 22*4*9cm

Version: